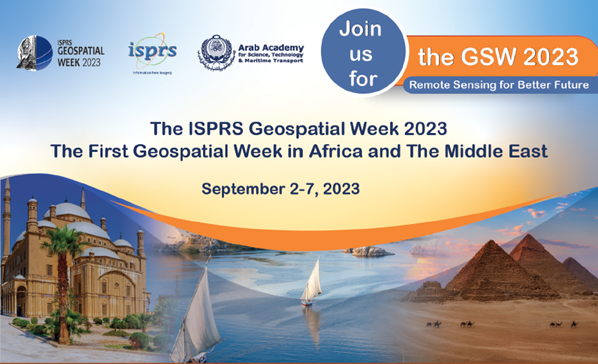 The ISPRS Geospatial Week "GSW2023" will be organized by The Arab Academy for Science, Technology, and Maritime Transport (AASTMT). The GSW'2023 will be the first ISPRS Geospatial Week in Africa and Middle East. The conference will be held in September 2-7, 2023, at the InterContinental Cairo Semiramis, Egypt.
The GSW2023 will host 29 workshops representing state of the art and future trends in Geospatial Technologies such as:
Youth Presentation Forum
SpACE – Spectral Remote Sensing in the era of AI, Cloud and Edge Computing
Openness in Geospatial and Remote Sensing
Precision GNSS: Technology Advances and Applications for Navigation and Mapping
Photogrammetric 3D Reconstruction for Geo-Applications (PhotoGA 2023)
Geospatial Data Analytics for Physical Geography Impact Assessment on Environment, Health and Society
Intelligent Systems in Sensor Web and Internet of Things
Underwater Mapping: Geospatial techniques for underwater documentation, mapping and monitoring
SO&C: Sensor orientation and calibration for mapping and navigation purposes
Smart Forests – Forest ecosystem assessment and monitoring using Remote Sensing, Artificial Intelligence, and Robotics
Satellite Remote Sensing and Its Applications
Advanced Data Preparation and Data Management for Geospatial and Remote Sensing Scenarios
Laser Scanning 2023
NGC of AV: Navigation, Guidance and Control of Autonomous Vehicles
ISSDQ 2023- Artificial Intelligence and Uncertainty Modeling in Spatial Analysis
Semantics3D – Semantic Scene Analysis and 3D Reconstruction from Images and Image Sequences
GeoHB 2023: Geo-Spatial Computing for Understanding Human Behaviours
The Geospatial Information and SDG Nexus: GI4SDGs
SARcon 2023 – SAR constellations and applications
Digital Construction
CrowdMapping: Crowdsourcing for Global Mapping
Indoor 3D
IAMS – Intelligent and autonomous mapping systems
AI-PC: AI-based Point Cloud and Image Understanding
UAV-based mapping with imaging and LiDAR systems: challenges, data processing, and applications
3DS Smart Cities – 3D Sensing for Smart Cities
Robotics for Mapping – SLAM approaches for mobile mapping and robot intelligence
MMT and HDMaps – Mobile Mapping Technologies and HDMaps
Cultural Heritage Visualization and Virtual Restoration
For more information about the workshops, please refer to the conference website workshops section: https://gsw2023.com/index.php/workshops/
Please consider submitting your abstract/full paper and encourage your colleagues, research group members and fellow scientists to contribute and participate in this ISPRS major event.
Exhibition
An exhibition will also be held during the GSW'2023. This provides companies in the field with the opportunity to be involved and showcase their products, services, and expertise to an international audience. For more information about the sponsorship's opportunities, please visit: https://gsw2023.com/index.php/sponsorship-and-exhibition/
Important Dates
Paper submissions
1. Annals (Fully Reviewed Papers):
Full paper submission (Annals): March 31, 2023 (hard deadline, no extension)
Full paper Author notification: May 1, 2023
Camera ready paper submission: May 1 – June 1, 2023
2. Archives (Abstract Reviewed Papers):
Abstracts submission (Archives): April 15, 2023 (hard deadline, no extension)
Abstracts Author notification: May 15, 2023
Camera ready paper submission: May 15 – June 1, 2023
Please refer to the conference website for more information about the submission guidelines and process.
Registration deadlines
Early bird registration deadline: May 1, 2023
Late registration deadline: July 1, 2023
Travel Grants
TIF travel grants will be offered by the ISPRS Foundation to enable deserving young authors, especially from developing countries, to participate in the GSW'2023, Cairo, Egypt. The application to the travel grants will be open soon.